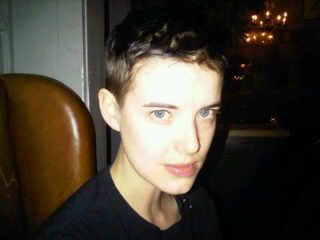 oh dear,
I'M SORRY BUT I'M JUST NOT LOVING AGGY'S NEW 'DO.
I LOVE SHORT I REALLY DO, BUT FOR ME THIS IS A LITTLE BIT TOO SHORT.
though she looks good as a brunette- i just love her as a blondie. for her, she can do little wrong with blonde hair + kohled eyes.
a fact for you: did you know she's had short hair since she was 13, and a skinhead at 17. wish i was that daring, just had my hair cut today actually. just an inch of my bob though. looks much slicker, but pretty standard.
if i had the balls, i'd go shorter and blonder. maybe i'll get the balls just to go blonder.
what do you think?